KISS FC – Setup and Review
[x_video_embed type="16:9″][/x_video_embed]
I have to be honest and admit, I put off flying the KISS FC because I was intimidated.  One, I didn't want to learn a new software because it doesn't run off Cleanflight or even Baseflight, gasp!  Two, take a look at the KISS FC manual and it will send you running with unanswered questions.  It's super confusing…and I'm not talking about the parts that are in German.
When the KISS FC first came out there were a lot of mixed reviews.  Just like anything new, there will be resistance.  Sometimes you just have to ignore what the people in the forums say and just go out and try for yourself.  Boy and I glad I did.  The KISS flight controller is insanely good!
This will just be an intro and simplified setup and review post of the KISS FC.  Hopefully I can help de-mystify the hardware and software part for you.  Good new is that once you learn the basics it's actually really easy to setup and tune.  Dare I say it's easier than CleanFlight, yes!
KISS FC Specifications
32 bit STM32F303CCT6 processor
MPU6050 Gyro, same gyro used on the DODO and SP3
Can handle 2-6s
Built in 5v 500mah BEC.  You can power the KISS FC directly from the battery
Supports pretty much all the popular RX types out there including SBUS on the FrSky with telemetry
4.6g
Dimensions 36 x 38mm
Mounting holes 30 x 30mm.  Yes it's .5mm smaller than the standard 30.5 x 30.5mm mounting like all other flight controllers.  Dont worry, a firm press and it will sit fine.
 Parts Used in this Post
KISS FC Install
In KISS lingo, PWM1 means motor 1, PWM2 is motor 2 and so on.  Keep in mind the motor layout is not the same as Cleanflight.  Remember this when you are connecting the signal leads to the KISS.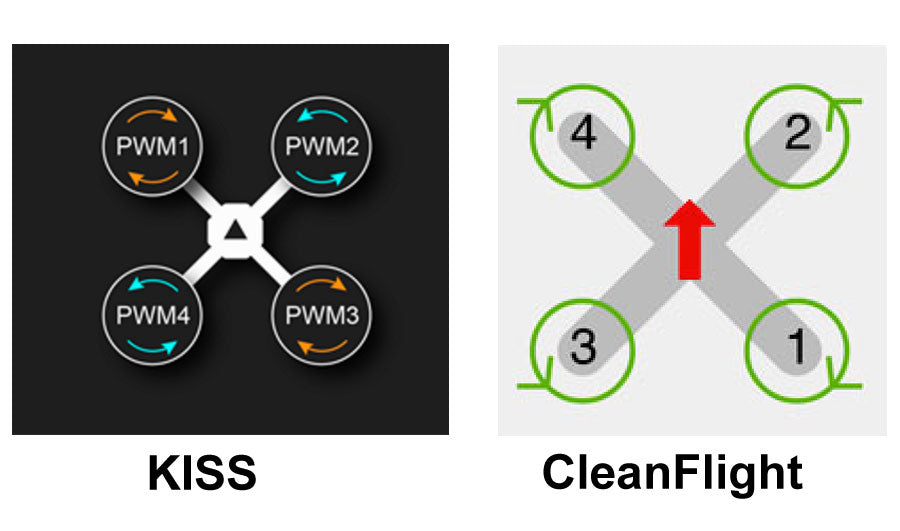 The KISS FC paired with KISS ESC will give you the option to have ESC telemetry.  It can show you info like battery voltage, current consumption, ESC temperature and motor RPM.  Since I built this Alien with the PowerOSD (mainly for the LC filter), I can already see battery voltage and current info.  I don't care about ESC temperature and motor RPM so I won't be connecting the ground or telemetry signal from the ESC.  To be able to see this info from the ESC you'll need to have a Micro MinimOSD or KissFC OSD.  Both options are very messy and unnecessary in my opinion.
Here's how my KISS FC is installed in the Alien.

KISS FC Update Firware
Dont even bother reading the firmware update in the manual.  It's super confusing.
Download most current firmware from here.  As of this post, the most current is v1.02RC28
Download Chrome if you haven't already.
Add the KISS FC configurator
Hold down boot button and connect usb.  Keep button held down until flashing is done.
Load firmware and flash
Done.  Get a beer
KISS FC Setup
The KISS FC configurator looks confusing at first if you are coming from the CleanFlight environment.  It's actually really simple.  Here are my settings for my ImpulseRC Alien using the FrSky XSR with telemetry.
UAV Type "Quad X"
Receiver "S-BUS".  All you have to do is select this to have the telemetry info setup.  No port configuration or any other options to enable like in CleanFlight.
FS. Levelmode Sec "0" this is your failsafe.  I want my quad to drop immediately if I lose rx signal so it's set to zero.
Min Command "1000".  Default is 1070.  In order to enable AirMode, Min Command needs to be set to 1000 and the Arm function is set to a switch.  If you don't enable AirMode you won't have any control at zero throttle.
FC Rotation "180"  Only set this if you have the arrow on the KISS FC facing the rear.
Set the switches for your Taranis, Arm, Buzzer, Level…
Hit "Save Settings" and that's it!  I will skip the PID part until the next build video, Lumenier QAV-X.  Just remember, as a safety feature, the KISS FC configurator will not save any settings if the battery is plugged in.
WARNING: Any tuning on your table must be done with your PROPS off.  No joke.  There were several times when I was setting up on the table the motors spun up at full power.  If there props were on, it would have shredded my face or cut my finger.  Either one, very bad.  PROPS OFF!
I'm using KISS 24A ESC on this Alien quad so no calibration is needed.  But if you using the KISS FC with any other ESC that's not KISS you'll need to calibrate.  The KISS FC configurator doesn't have a motors tab like in Cleanflight so you'll have to do it manually.
Calibrate Non KISS ESC
Put the KISS FC in disarm mode
Connect FC to USB and set Min Throttle to 2000, hit save
Arm the FC with your transmitter, no battery
Plug in the battery, wait for the calibration chime
Disarm the FC
Unplug the battery
Set Min Throttle back to 1070 or whatever you like, save
Disconnect and unplug USB
Flight
How can I describe how the KISS FC flies?  In a way it flies like it's in molasses, in a very good way.  Right out of the box, there is a great deal of control and feel without the extra little movements like jitters, bounces, flutter or oscillations.  With just some tiny tweaks to the PIDs the quad felt incredibly lock in like no other quad I've flown.  The quad just does exactly what you want it to do.
It's hard to describe how well the KISS FC with the KISS 24A ESC flies.  It's like trying to describe the color red to a blind person.  You just have to experience it for yourself.  So if you were one of the people on the fence or intimidated by trying new hardware and software like I was.  Do yourself a favor and pick up a KISS FC with KISS ESC setup.  You'll thank me later.
Check back soon for the Lumenier QAV-X with KISS FC and KISS 24A ESC build video.
If you found this post helpful, it would be super cool if you purchased the components from my store or purchase items from my Amazon links.  These posts are expensive and take a loooong time to make!  The purchases make it possible for me to keep making them.  Thanks in advance, I greatly appreciate it 🙂