Lowepro QuadGuard BP X2 – Drone Backpack
[x_video_embed type="16:9″][/x_video_embed]
I love the Lowepro QuadGuard BP X2 drone backpack!
Before I discovered the Lowepro QuadGuard drone backpack I was using a toolbox nested inside the Ridgid Pro Gear Cart.  The toolbox held my quads, batteries, props and misc gear.  The Ridgid gear cart was my FPV seat.  It was a nice setup but it's big, heavy and took up too much room in the office.  That's when I started looking for alternatives.
Drone Backpack Choices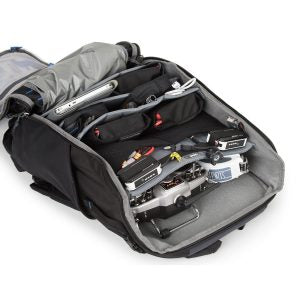 I narrowed down my drone backpack options down to two bags, the ThinkTank FPV Session and Lowepro QuadGuard BP X2.  You know FPV quadcopter racing is getting popular when the two biggest camera bag makers start making drone backpacks.  Every part of me wanted to go with the ThinkTank FPV Session because in my previous profession as a photographer all I used were ThinkTank bags.  Their quality and support were both top notch.  I have no doubt the quality of the ThinkTank is fantastic also.  As much as I wanted to love the ThinkTank, what really killed the deal was the layout.  I didn't like the way the pockets inside were the "layered" style.  All the pockets are stacked on each other offering no protection from being crushed.  Even the big pocket for your transmitter and goggles is a "layered" pocket.  It looks like you just kinda cram them together in the top pocket with the gimbals smashed against the divider.  Big deal breaker.
I almost bought the ThinkTank bag until my friend showed me the Lowepro QuadGuard BP X2.  To be honest I don't like the Lowepro camera bags.  Yes I'm a ThinkTank brand snob…in the camera world.  In the FPV quadcopter world, the Lowepro rocks!  Unlike the ThinkTank, the QuadGuard has dividers that make up actual compartments for your gear.  The inside of the bag is lined with the furry side of velcro.  You can play around with the dividers and make any configuration you want but the configuration it comes with works great.

Lowepro QuadGuard BP X2 Specifications
Holds up to 3 quads (4 if you get extra straps).
Internal compartment can hold a 5″ quad with props attached
External straps that can hold up to 2 more quads (3 if you get extra straps)
5 external pockets (3 zippered, 2 elastic)
Integrated rain cover
2 zippered internal pockets
Tool straps inside
Dedicated compartment for your transmitter and goggles with receiver/antennas attached
Key loop
Gimbal protector pad.  I never use this.  It's not needed.
Zippered pouch
External Dimensions 12.6 x 9.8 x 20.4 inch
Internal Dimensions 11.8 x 7.5 x 19.7 inch
Weight 4.6lbs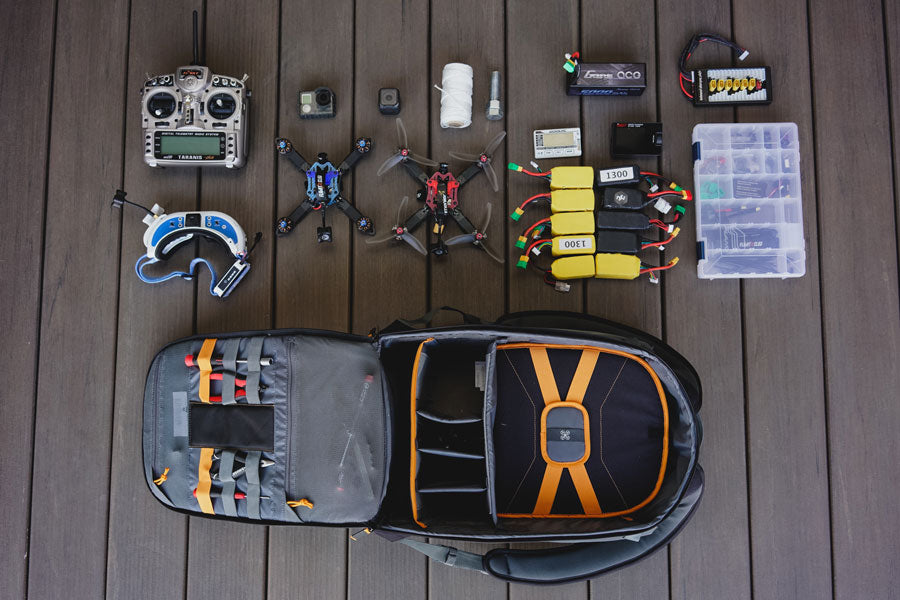 What's in my Lowepro QuadGuard BP X2
Pros and Cons
PROS:
As I mentioned before, I love how the Lowepro drone backpack has actual compartments.  They are organized in a way that lets you carry a lot of gear in a relatively small bag.  When I'm done flying I can just throw everything in the bag and leave.  No need to use gimbal protectors on the Taranis, remove props, unscrew any antennas or anything.  The dedicated FPV goggle compartment will fit the FatShark Dominator v3 with the Furious True-D with both antennas attached.
I carry 10 4s batteries with room to spare.  It can fit more if you get creative.  Even if I burn through the 10 batteries, no worries.  I have a portable way of charging batteries on the go totally independent from AC plugs or car batteries.  The Lowepro drone backpack can fit the iSDT SC-608 battery charger, 6 battery balance board and a 5 Amp source battery.  See my review on the iSDT SC-608 lipo battery charger.
The QuadGuard comes with a zippered pouch that fits in one of the compartments on the bottom of the bag.  It's nice but I replaced it with a simple container with adjustable dividers.   This container has the same dimensions as the zippered pouch so it fits perfectly in the bag.  I use this to keep my spare doo-dads like a spare HS1177 camera, spare FX799T VTX, spare antennas, velcro straps, spare goggle battery, 2.5mm camera lens, locknuts, screws or anything else I think I'll need for a day of racing.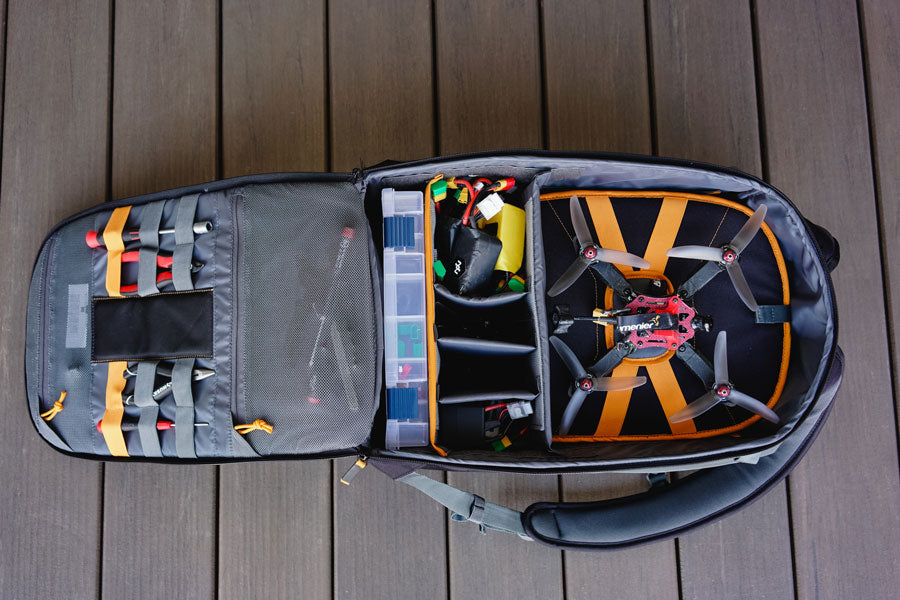 CONS:
The only issue I have with the Lowepro QuadGuard drone backpack is that it can't hold a laptop.  A little annoying but no biggie.
Some people complain that the Lowepro can't stand up by itself.  There's a simple fix.  All you have to do is push the rain cover, located at the bottom of the bag, towards the front of the bag.  This will tilt the bag enough to where it will stand by itself.  If it's not enough tilt, just stuff an old t-shirt or something.
Conclusion
If you are looking for a simple way to hold all your FPV gear, this is it.  I highly recommend the Lowepro DroneGuard BP X2 drone backpack.