Best Quadcopter Frame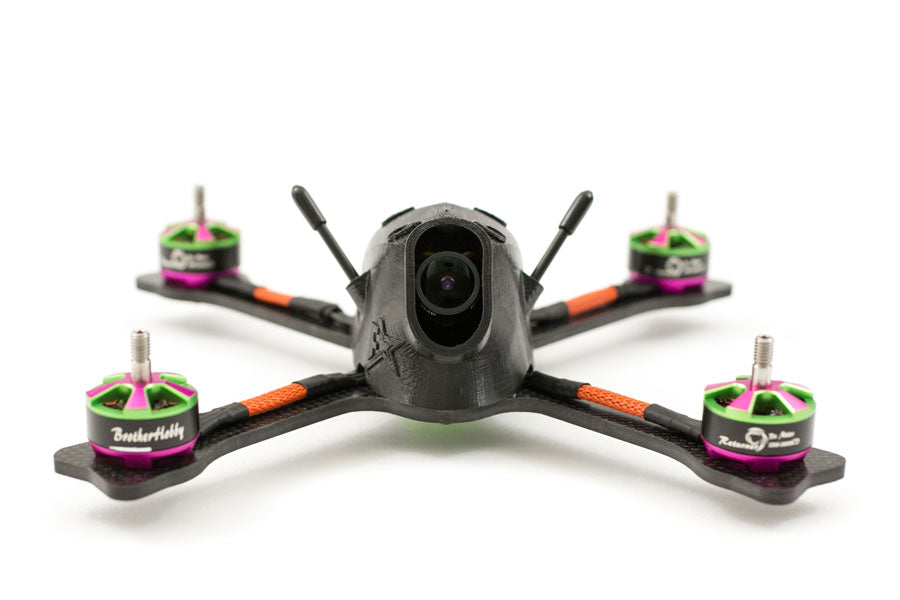 For the past three months I've immersed myself in designing the best quadcopter frame and learning how to cut carbon fiber.  It's been a frustrating, hair pulling experience but I'm very proud with the results.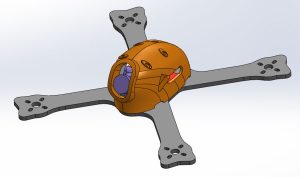 I thought my inner OCD self in making clean builds was bad, designing frames is 100 times worse.  To give you an idea, I designed 4 different frames in the past 3 months with no less than 10 different versions/revisions of each.  There were the standard two horizontal carbon fiber plates, vertical plates, aluminum/carbon fiber struts, carbon/printed, camera on top, camera in front and canopy frames.  I designed using different materials, aluminum, G10, TPU, Nylon and different manufacturing techniques before I settled on a design that I liked.  This is before even prototyping and testing!
Mantra
Protection, protection, protection
What do we all want in the FPV quadcopter hobby?  I think everyone can agree that it's to build a quadcopter, have fun flying and pray to not break something when you crash.  So the most important goal when I set out to design the best quadcopter frame was to make it as durable and crash resistant as possible.  Protection, protection, protection.  It had to be easy to work on too and of course fast.
To recap on my other post on Designing the FPV quad frame, here are the goals I wanted to achieve in the best quadcopter frame.
Sub 300g – It's physics.  A high power to weight ratio means a really fast quad.
Strong frame –  I'll be testing different thickness Carbon fiber and or aluminum to see what works best.  Even though the only arm I've broken was on my first quad, QAV250.
Easy to build and work on – An easy to build frame is a really important feature.  If you have a frame that's too complicated you'll waste a lot of time doing repairs.  I have quads I never bothered to fix after the maiden flight…ahem, Corgi.
X pattern or long X pattern – Of all the frames I've flown, the X pattern gives you the best feel.  It works equally well for race or freestyle FPV flying.
Designed for the HS1177 or similar camera with protection – The HS1177 camera form factor is pretty much the standard camera for FPV racing quads.
Built in recording camera mount for the GoPro or Mobius type cameras.
Bottom mount battery – this offers the best battery placement for a balanced quad.
In my final model I was able to achieve and surpass all the goals.
Simplicity is the Ultimate Sophistication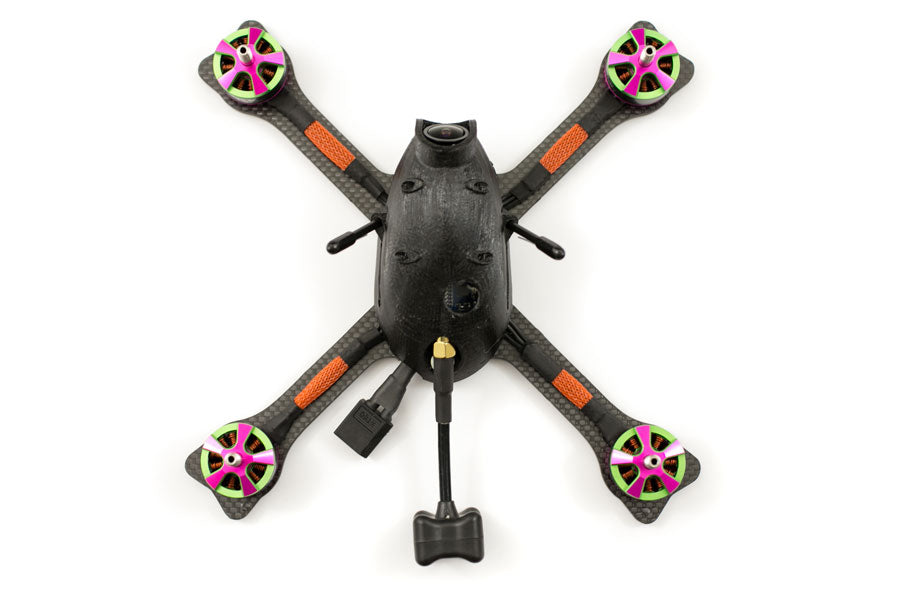 Details Details Details
Although this frame looks simple, there are lots of small details you won't notice until you spend some time building and flying it.  Every detail is meticulously engineered to the tenths of a millimeter to make sure everything works perfectly.
I haven't come up with a name for this frame yet so for now I'll refer to it as FX210, FlightClub X frame 210mm.
I compiled a list of tips from the reader comments from the Designing the FPV quad post and this is what I came up with.
210mm true X pattern frame.  Of all the frames I've built and flown, I think 210mm is the sweet spot.  Big and heavy frames like the Alien 5″ fly really well like on rails but lacks the agility to whip around a track.  Smaller frames like the 200mm Xhover MPX200 or Armattan SCX200 can move quickly around a tight track but lacks the stability of the Alien.  I think 210mm is a perfect combo of stability and agility.  I could have easily made the frame a 205mm by just shrinking the arms but I wanted to make sure there is plenty of clearance for all props including the RaceKraft 5051.  A long X frame will be an option after I finalized this version.
Short small body.  I wanted to keep the body as small as possible to minimize air drag and maximize agility.
Fully protected camera and lens.  Most frames mount the camera on carbon fiber.  Carbon fiber is strong, light but provides zero protection for fragile parts like the camera.  When you hit something, there is zero give so 100% of the impact is transferred to the camera.  Either the camera, lens or carbon fiber will break on impact.  On the FX210, there are three stages of protection for the camera.  1 the protruded lip around the lens.  2 the flexible body absorbs the impact.  3 the camera is mounted on the metal camera mount that will bend on extreme impacts.
VTX protection.  Once again, most frames mount the VTX on carbon fiber with zip ties.  On the FX10, the vtx is mounted on the flexible canopy with a 15 degree downslope.  Instead of bending the antenna up like on most quads, the FX10 is bent down.  When the antenna is above the props the first thing that will happen when you land upside down is the antenna will take a lot of impact and bend into the props.  It will be most likely the first point of impact when it lands upside down or in a roll.  Mounting the antenna pointing down it will not touch the props or even the ground.  When the quad lands upside down the prop is already bending in that direction so very little stress will be put on the antenna or SMA connector.
Easy to change the battery strap.  Some quads it's so hard to change a battery strap you almost have to take the quad apart to do it.  On the FX10 all you do is pull out the broken one and slip in a new one.
Angled antenna ports on side of body.
Aerodynamic body
Only two screws to mount the canopy.  No need for messy silicon glue on any part of this canopy.  I've tried to rip the canopy off with my hands and it won't budge.  Simple, light and strong mounting solution.
Plenty of carbon fiber around the motors to protect them.
Bottom of the quad will be completely flat in the final version.  No screw heads poking out to rip apart batteries.
Fully chamfered carbon fiber bottom plate in the final version.
The GoPro mount is a work in progress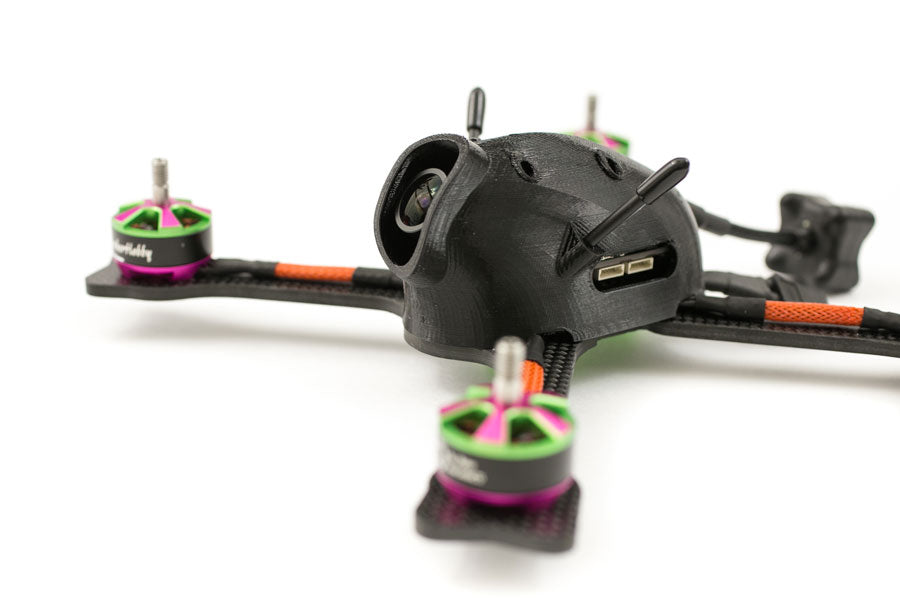 Tesing and Damage Report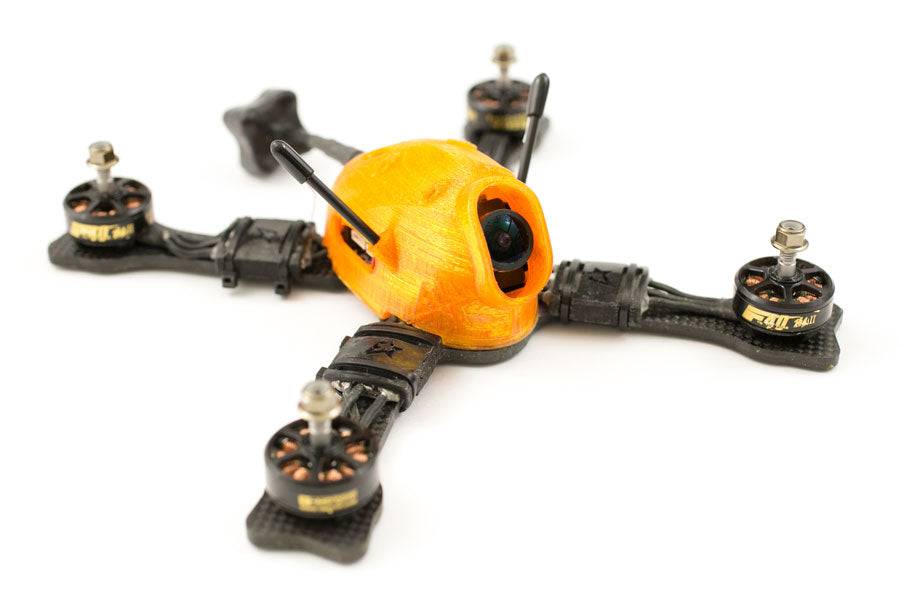 The prototype pictured here has had around 50 batteries of flight time so far.  It's hit fiberglass race gate poles at least 100 times, flown through/into trees, done countless cartwheels, dive-bombed into the ground, got stuck 30 feet up in the tree then hit the ground,  hit a metal fence and flown full speed into a steel light pole twice.  Besides the props, it's only broken a $7 camera lens.  How about that for protection?  Impressive if you ask me.  The camera lens broke when I hit the steel light pole the second time.  By the sound of the impact I thought the quad was a goner.  I was surprised to find the only damage was a cracked lens and bent camera holder.  I've built and flown countless all carbon fiber frames and I'm positive a full carbon frame would have suffered major damage and would have ended my day or week waiting for replacement body parts.
My main objective in designing the best quadcopter frame is to get maximum flight time by means of protection.  After I built the first prototype I was really surprised the first time I put it on the scale.  It only weighed 280g!  (for reference, the QAV-X and SCX200 are 319g, Alien 5″ is 390g)  That's getting into micro quad territory and the 250g limit FAA registration.  As a result the FX210 is fast!  The first time I flew it it was too reactive running PIDs I had for the QAV-X.  I had to increase the rates in the PIDs to reduce the twitchiness.  That's what happens on a light quad with powerful motors.  Once it was tuned it flies like a surgical jackhammer.  So much power on a light quad makes it easy to whip around corners and launch into orbit when you punch it.  Best of all is that I know if I crash I could just bend the props back and keep flying!
After 50 Batteries…
All 4 motors are still perfect.  No bent casings, nothing.
Antenna is still perfect.  Antennas on my other quads look like bent half chewed pretzels after this many flights and crashes.
VTX, no broken SMA connectors.  Zero issues.
The camera itself hasn't suffered any damage besides the $7 lens.  30 second swap and I was back in the air
ESCs using the ESC guards are fine
XSR antennas are still intact, zero damage.  This was a salvage XSR I took off my AstroX TrueX frame.  (Off topic but this AstroX only lasted 2 batteries before the two vertical plates broke in half on the first crash.  I was planning to do a build/review post on this frame but it didn't even survive past the second battery.  Easy not recommended on this frame.)
Canopy is a little dirty but has zero damage.  TPU is crazy strong, nearly indestructible.  Good thing about a canopy quad is that it's very easy to keep clean.  It protects all the electronics from dirt and blended grass.  All you have to do is take it off and wash it under water and it looks like new.  My full carbon frames look like the inside of a lawn mower covered with shredded grass and dirt.
More testing
Even though this frame is already great.  My OCD won't let it go.  There's still some small tweaks and different ideas I want to try out.  I'll build some more prototypes and test it myself.  Once I get a version I'm satisfied with I'll have some frames cut to send to testers before making it available to everyone.
I still haven't come up with a name for this quad.  Help me name this quad in the comments below.  The winner will get a free quad frame.
Let me know your thoughts in the comments below.